MARCONI MIDATA 510/11 – Wayne Kerr 3900 Legacy Replacement
Launched in the 1980's the Marconi Instruments Midata 510/11 and the Wayne Kerr 3900 were very successful bench-top test systems. With 21 slots, the systems offered analogue in-circuit and both digital and analogue functional test capability.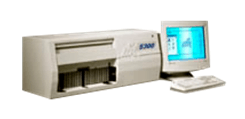 Both products have been out of production for many years and spare parts are difficult to obtain. However, depending on system configuration, we may have a solution.
We have software that is able to translate your existing test programs, and a range of hardware products that offer a flexible test solution to both your legacy products and those for the future.
These systems are based on products supplied by Marvin Test Systems who have a long history in solving legacy test issues.
YOUR TRUSTED PARTNER – WHEN PRECISION MATTERS