ATE Solutions Order Book Goes from Strength to Strength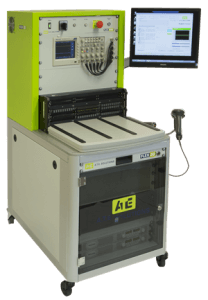 It's been a busy couple of months. I know we said that in our last blog, but it's more true than usual. The demand for our world class solutions is growing, as the market increasingly recognises the flexibility, reliability and advantages of our Flex range of test platforms.
Last month we received a second large order from Protean Electric, the global electric drive technology company to develop further testing systems for Protean's EV in-wheel motor, ProteanDRIVE. The ProteanDRIVE product development is taking place at the company's R&D base in Farnham, before being passed over to the company's Chinese manufacturing operation.
The first stage that ATE and Protean worked on was for the Power Base for which we created a solution based on modular hardware, off the shelf components, and industry leading software with Labview/TestStand bought together in our FLEX 40 system. Protean selected ATE Solutions for both our experience and problem-solving ability.
The second Protean order for ATE Solutions, received last month, is to develop the ATE for the ProteanDRIVE RAM Power Module. Expected delivery time is four months. When complete the system will be accepted here in the UK and then shipped directly to the manufacturing facility in China where it will be commissioned.
The new Power Module project has its technical challenges but having previously worked on the Power PCB we have already faced and overcome many important technical issues and challenges. Hence Protean ordered from us knowing that we'd be able to deliver what's needed and on time.
Our other major order last month was for 8 duplicate systems for a leading rail sub-systems provider who is developing a new brake controller. We are building 3 modified FLEX 30 ATE systems with extra JTAG and pressure testing functionality, together with an additional 5 FLEX 30 test systems duplicating units we have already supplied. These will be shipped to different manufacturing centres around the world, as well as a couple into their repair depot in the UK.
Having secured these recent ATE systems orders, we have also won the contract for application work developing the test programmes and fixtures for a new generation brake controller together with 25 repeat fixtures for the company's repair division.
All in all, things are very busy here at ATE Solutions and we could definitely get close to doubling our turnover from last year which isn't bad growth for one year!